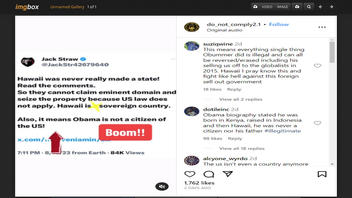 Was Hawaii "never really made a state" as a social media post claims? No, that's not true: Hawaii officially became a U.S. state on August 21, 1959. This happened after the U.S. Congress passed the Hawaii Admission Act and most people in Hawaii voted for the territory to become a state.
The claim appeared in a post on Instagram by do_not_comply2.1 on August 19, 2023, under the title "Hawaii was never really made a state!" The full post said:
Hawaii was never really made a state! Read the comments. So they cannot claim eminent domain and seize the property because US law does not apply. Hawaii is a sovereign country.

Also, it means Obama is not a citizen of the US!

https://x.com/nickveniamin/status/1692118967068905640?s=46&t=MnGd4DIhBqJeaQjSkP1H1g
This is what the post looked like on Instagram at the time of writing: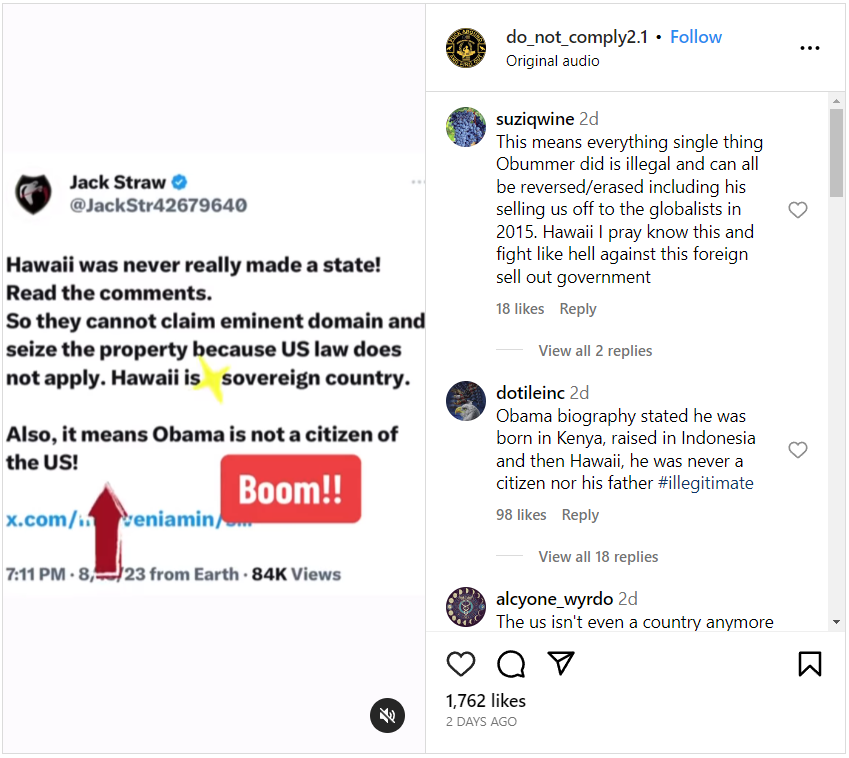 (Source: Instagram screenshot taken on Tue Aug 22 15:35:32 2023 UTC)
Posts within posts
This post features a screenshot of a post on X (archived here), the social media platform formerly known as Twitter, which links to another post on X (archived here). Both are shown side by side below:

(Source: X screenshots taken on Tue Aug 22 2023 UTC)
Road to statehood
President Dwight D. Eisenhower supported Hawaii becoming a state early in his time as president, which began in 1953. But it wasn't until 1959 that the necessary law, called the Hawaii Admission Act, passed through Congress and got the president's approval on March 18 of that year. In a statement from the White House, Eisenhower said:
Under this legislation, the citizens of Hawaii will soon decide whether their Islands shall become our fiftieth State. In so doing, they will demonstrate anew to the world the vitality of the principles of freedom and self-determination -- the principles upon which this Nation was founded 172 years ago.
Then, in June 1959, people in Hawaii overwhelmingly voted to join the United States. Finally, on August 21, 1959, Eisenhower made Hawaii the 50th state by signing the official proclamation.
Is Hawaii a sovereign country?
No, Hawaii is not a sovereign nation. While there are discussions and movements related to Hawaiian sovereignty, Hawaii is currently a state within the United States. The historical context and legal complexities surrounding Hawaii's annexation and statehood are subjects of debate, but under the current legal framework, Hawaii operates as a U.S. state and is subject to U.S. laws.
Additionally, because Hawaii is part of the United States, the claims in the Instagram post about eminent domain and the citizenship of former President Barak Obama, who was born in Hawaii, don't apply.
Lead Stories previously debunked the often-repeated claim that Obama is not a U.S. citizen. Obama was born on August 4, 1961, in Honolulu, Hawaii. His mother was American and his father was Kenyan.
Additional Lead Stories fact checks of claims related to Hawaii can be found here.