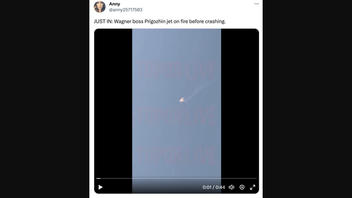 Does a video shared to social media on August 23, 2023, show Russian oligarch Yevgeny Viktorovich Prigozhin's jet "on fire before crashing"? No, that's not true: While the video itself is authentic, it documented an unrelated plane crash that reportedly occurred nearly two months earlier on June 24, 2023, "near the village of Kantemirovk," about 700 miles from the village of Kuzhenkino, the reported crash site of the aircraft in which Prigozhin is presumed to have perished.
The claim that the video documented Prigozhin's death originated in a video shared to X (former Twitter) on August 23, 2023, (archived here) that included a caption that read:
JUST IN: Wagner boss Prigozhin jet on fire before crashing.
Below is how the post appeared at the time of publication: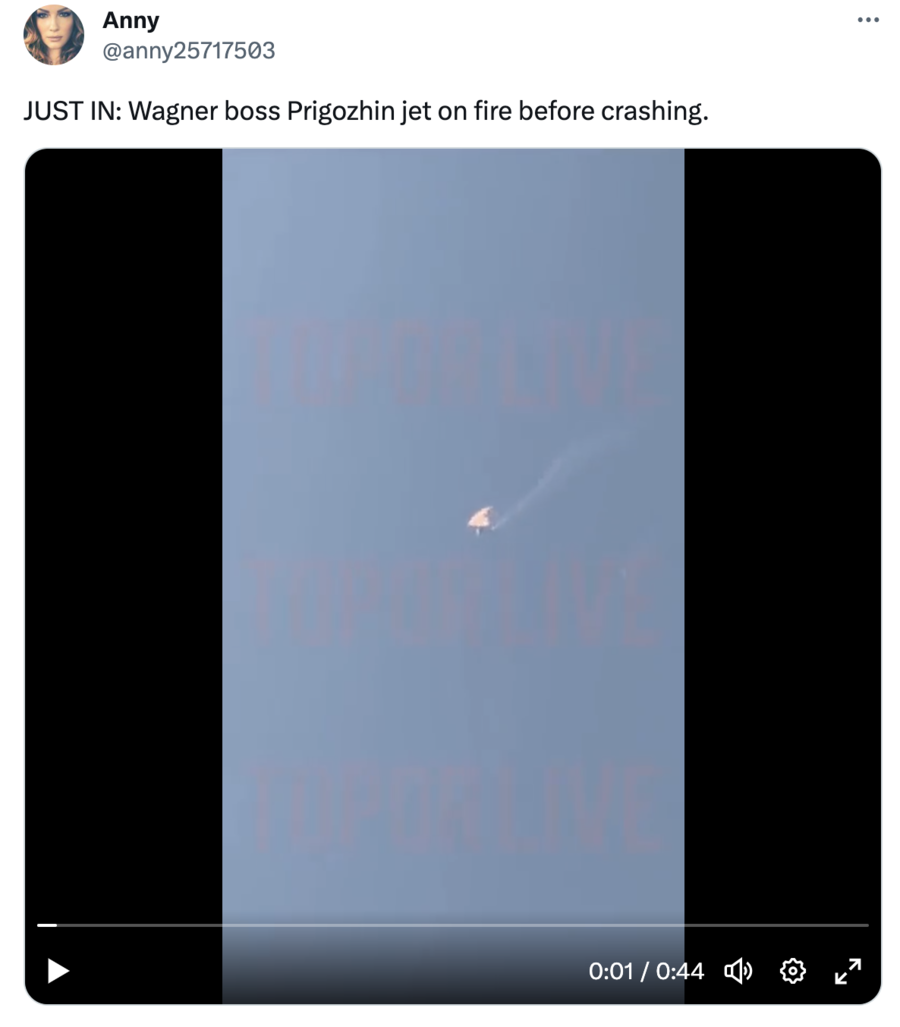 (Source: X.com screenshot taken Thu Aug 24 16:45:11 UTC 2023)
Though the footage is authentic, it is mislabelled and is not affiliated with the plane crash that involved the Russian oligarch and former close confidant of Russian President Vladimir Putin.
Prigozhin is reported to have been killed in a plane crash on August 23, 2023, near the village of Kuzhenkino in the Tver Region, according to credible news outlets including The Associated Press, Reuters, and Radio Free Europe. But the video above identified Kantemirovka, a village 700 miles from Kuzhenkino, as the scene of the crash documented.
The video in question was first posted to YouTube on June 24, 2023, (archived here) by the account Activatica, an "online platform covering grassroots activism across Russia," according to the global human rights organization, Rights CoLab. It was originally titled, "🟠Под Воронежем рухнул самолет," which translates in English to "🟠 A plane crashed near Voronezh."
A description that accompanied the video read, in Russian:
Сообщается о крушении самолета АН-24 в Воронежской области. Ранее о падении самолета сообщали местные жители.

Самолет упал недалеко от населенного пункта Кантемировка. По предварительным данным, погибли как минимум 3 человека.
Google Translate translates the caption into English as:
It is reported about the crash of the AN-24 aircraft in the Voronezh region. Earlier, the crash was reported by local residents.

The plane crashed near the village of Kantemirovka. According to preliminary data, at least 3 people died.
Since the supposed video was posted two months prior to the Prigozhin plane crash, there is no way that it could have shown what was stated in the caption of the August 23 X post. Questions about Prigozhin's apparent death remain. Forensic evidence has not been released, as of the date of this writing, that would confirm whether Prigozhin was onboard or killed in the crash.
The Center for Strategic and International Studies reported that Russian state media claimed in a post on Telegram that Prigozhin was killed when an Embraer Legacy 600 jet registered in Prigozhin's name crashed. The Russian Ministry of Emergency Services also wrote in a post on Telegram that there were 10 people on board, including three crew members.
According to the Flight Radar 24 online tracker, the Brazilian-built jet fell off radar screens on August 23, 2023. As of this publication, the Wagner Group, a Russian state-funded private military company that was controlled until recently by Prigozhin, had not yet confirmed its leader's death.
Lead Stories has published prior debunks related to Russia's invasion of Ukraine, reporting that Prigozhin did not switch his loyalty to Kyiv during his short-lived mutiny against Putin, that a black-and-white video did not show a nighttime explosion in Ukraine that caused flooding downstream, and that President Joe Biden did not declare "war on Russia" as of June 17, 2023.