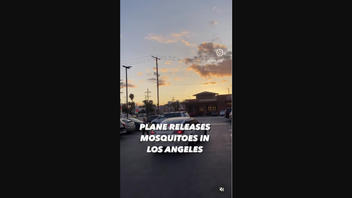 Did a social media video document an aircraft releasing a swarm of mosquitoes over Los Angeles in October 2023? No, that's not true: Los Angeles' vector control districts, responsible for pest eradication, said there have been no known airborne releases of mosquitoes over the city in October 2023. Both the U.S. Department of Agriculture and the California Department of Food and Agriculture told Lead Stories that a video shared to social media in October 2023 may show the distribution of sterilized fruit flies, often released as part of a population control effort. While sterilized male mosquitoes can be released into areas with population increases, experts noted that that's typically done by hand or car. Regardless, neither initiative has been shown to be harmful to human health.
A version of the claim originated in a video on Instagram on October 1, 2023, (archived here) with a text overlay that read, "PLANE RELEASES MOSQUITOES IN LOS ANGELES." A caption with the video read:
All I can say is wow
Below is how the post appeared at the time of writing: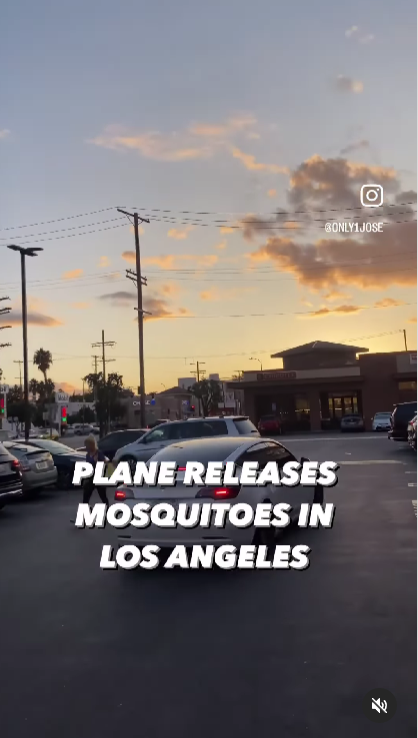 (Source: Instagram screenshot taken Tues Oct 17 15:11:00 UTC 2023)
A voice can be heard in the video saying, in part, "They trying to kill us, bro. They just dropped off like a billion mosquitoes."
It is true that in some cases altered mosquitoes are released by federal and state agencies as part of population control efforts. But while it is possible to do so by plane, experts confirmed to Lead Stories that they are most commonly distributed by hand. Experts Lead Stories spoke with confirmed there is no record of any planes having dispersed mosquitoes over Los Angeles County i
n September and October 2023
.
What is more likely is that this footage captured the California Department of Food and Agriculture (CFDA)/U.S. Department of Agriculture (USDA) release of sterilized male
Mediterranean fruit flies
, often used to control their population. Neither agency was able to confirm whether it was their plane.
Neither of these initiatives has been shown to be harmful to human health.
Los Angeles VCDs confirm no airborne mosquito dispersal occurred as of October 2023
Los Angeles County is served by five vector control districts (VCDs) responsible for managing mosquito and other insect populations, the Los Angeles County Department of Public Health told Lead Stories in an email on October 18, 2023.
Lead Stories contacted each VCD and was told there was no record of any control units dispersing mosquitoes over the county in September and October 2023.
Susanne Kluh, general manager of the Greater Los Angeles County Vector Control District, told Lead Stories in an email received October 18, 2023, that there is no evidence or record of having dropped mosquitoes over Los Angeles at any point in history, particularly in September or October 2023.
Irradiated mosquitoes are used for population control
Sterile Insect Technique (SIT) is a pest control technology the U.S. has used since the 1950s to reduce mosquito populations, according to the Centers for Disease Control and Prevention. SIT involves using ionizing radiation to sterilize male mosquitoes that are then released into the wild. Male mosquitoes don't bite, meaning they cannot spread disease, and any eggs resulting from their breeding will not hatch.
As of this writing, the Greater Los Angeles Vector Control District is evaluating whether to use SIT in mosquito control efforts with a pilot program in place that will release "locally reared, non-biting, sterile male mosquitoes (Aedes aegypti) in a specified area within the District's boundary (using irradiated or x-rayed mosquitoes)."
However, SIT mosquitoes are normally "released by hand or by vehicle," Omar Akbari, a professor at the UC San Diego Department of Cell and Developmental Biology with expertise in mosquito control, told Lead Stories in an email on October 18, 2023. While it is, in theory, possible to release SIT mosquitoes by plane, this is not the norm, he said, and he is unaware of efforts to do so.
Pest control experts deploy sterile fruit flies by plane
In partnership with the USDA, the CFDA uses planes to release sterile fruit flies over the Southern California region as part of the program Mediterranean Fruit Fly Preventive Release Program.
A USDA spokesperson confirmed to Lead Stories in an email on October 19, 2023, that though the agency was not able to confirm whether the aircraft seen in the video was USDA-sponsored, it may have been employed by the CDFA to release sterile Mediterranean fruit flies over the LA basin as part of the Preventative Release Program. It's described under the subheading "Release of Adults by Air":
Releases are conducted by a private release operator under contract with the USDA. The current contractor utilizes and maintains five twin-engine turboprop Beechcraft 'King Air' aircraft to accomplish the releases. Each aircraft is staffed with a two-person crew. The pilot operates the aircraft and the copilot operates and monitors the release machine and records the flight data. A typical day consists of four flights conducted by two aircraft. Flight times vary from 2½ to 3 hours depending upon a number of factors including the size of the load, the release rate, and the proximity of the release area to the base of operations. Releases are conducted seven days-a-week, with the exception of periods when the airfield is closed or when weather conditions threaten crew safety or the quality of the release.
It is entirely possible that the aircraft seen in the video was releasing sterile fruit flies, the USDA told Lead Stories. However, the agency was not aware of any such efforts that involve mosquito releases as of October 2023.