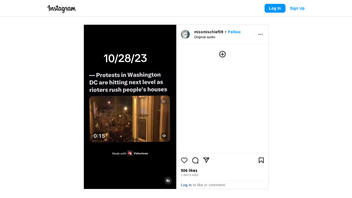 Did protesters in Washington, D.C., riot and rush people into a house on October 28, 2023, as a video on Instagram claims to show? No, that's not true: The video is from a 2020 Black Lives Matter protest. The homeowner told television station WUSA9 at the time that he invited the protesters into his home to wait out a curfew.
The claim appeared on Instagram on October 28, 2023. The on-screen text read:
10/28/23

Protests in Washington DC are hitting next level as rioters rush people's house
This is what the Instagram post looked like at the time of writing: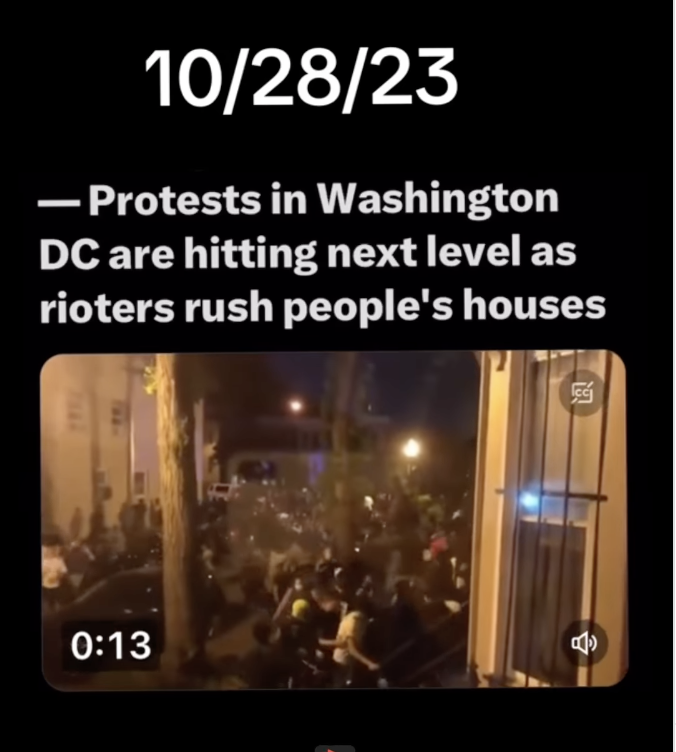 (Source: Instagram screenshot taken on Tue Oct 31 14:49:27 2023 UTC)
The video shows a group of people entering a home en masse. The person recording is in the house next door and turns others away as they approach the house. The on-screen text has a date of October 28, 2023, but the poster does not supply any evidence that this date is accurate.
A 2020 fact check (archived here) from television station WUSA9 said that the D.C. homeowner opened their doors to Black Lives Matter protesters during the summer of 2020. In the article, they cite a June 2, 2020, X post (archived here) from fact-checking organization Verify This staffer Ariane Datil, who spoke on the phone to one of the people who entered the home. They told her, "So, we were just standing around for a little bit and then [the police] started closing in, and macing people, pushing people. And then this man opened his door and just tried to get as many of us as possible." The tweet can be seen here:
Just spoke to 1 of the more than 40 people seeking refuge inside of a strangers house on 15th & swann. He says he @DCPoliceDept chased the group w tear gas. He doesn't know when he'll be able to go 🏠. @wusa9 #blacklivesmatter @DMVBlackLives #MartialLaw #amplifymelanatedvoices https://t.co/hx7EpUg3qH pic.twitter.com/GpuB1Glkun

-- Ariane Datil (@arianedatil) June 2, 2020
The WUSA9 fact checkers found out that the homeowner who allowed protesters into his house was Rahul Dubey. The station followed up with Dubey, showed him the videos circulating on social media and asked him to confirm or deny whether he allowed protesters in his home. Dubey confirmed that he was the homeowner and did allow the protesters access to his home. The article reads:
Our Verify researchers showed Dubey the video and captions going around social media. He confirmed to us, this video portrays him inviting people into his home, not rioters rushing in.
Protests occurred in several major cities around the world during October 2023 (archived here) as a result of the Hamas-Israel conflict, which erupted on October 7, 2023, but a Google News search of the phrase, "October 23, 2023 AND protesters AND Washington DC AND rioters" (archived here) did not yield any results relevant to the claim.
Other Lead Stories fact checks on the 2020 Black Lives Matter protests can be found here.
More Lead Stories fact checks on the 2023 Hamas-Israel conflict can be found here.