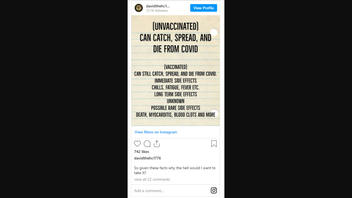 Do vaccinated and unvaccinated people face the same risks from COVID-19? No, that's not true: People who have been vaccinated against COVID-19 have substantially better outcomes. They are much less likely than unvaccinated people to get sick and, if they do, they are less likely to experience severe illness. Although no shot is 100% effective, COVID-19 vaccines are widely considered within the medical community to be both safe and effective.
The claim appeared in an Instagram post (archived here) published on August 4, 2021. Its caption asked: "So given these facts why the hell would I want to take it?" The post read:
(UNVACCINATED) CAN CATCH, SPREAD, AND DIE FROM COVID
(VACCINATED) CAN STILL CATCH, SPREAD, AND DIE FROM COVID. IMMEDIATE SIDE EFFECTS CHILLS, FATIGUE, FEVER ETC. LONG TERM SIDE EFFECTS UNKNOWN POSSIBLE RARE SIDE EFFECTS DEATH, MYOCARDITIS, BLOOD CLOTS AND MORE
Users on social media saw this at the time of writing:
The post is not completely wrong; it's true that both unvaccinated and vaccinated people can catch, spread and die from COVID-19. But the post fails to mention that vaccinated people face significantly better odds -- also, that those with COVID-19 can experience side effects long after their initial recovery.
According to the U.S. Centers for Disease Control and Prevention (CDC), vaccination greatly reduces the risk of COVID-19 and its potentially severe complications, including death. Among the vaccines that have been approved for emergency use, the Moderna vaccine was shown in clinical trials to be 94% effective at preventing COVID-19, while the Pfizer vaccine was 95% effective and the Johnson & Johnson vaccine was shown to be 66% effective.
In other words, although it's possible to get COVID-19 if you're vaccinated, the risk is much lower. Also, if you do get sick, the vaccines are thought to provide protection against severe illness. Here's what the CDC says about that on its website:
While COVID-19 vaccines are working well, some people who are fully vaccinated against COVID-19 will still get sick, because no vaccines are 100% effective. These are called vaccine breakthrough cases. However, there are some data to suggest that vaccination may make symptoms less severe in people who are vaccinated but still get COVID-19. mRNA COVID-19 vaccines have been shown to provide protection against severe illness and hospitalization among people of all ages eligible to receive them. This includes people 65 years and older who are at higher risk of severe outcomes from COVID-19.
Like the post, the CDC also discusses possible side effects from the vaccines. Common side effects can include fever, headache and muscle pain. Serious safely issues are rare and long-term side effects are unlikely. Again, here's the CDC:
Serious side effects that could cause a long-term health problem are extremely unlikely following any vaccination, including COVID-19 vaccination. Vaccine monitoring has historically shown that side effects generally happen within six weeks of receiving a vaccine dose. For this reason, the FDA required each of the authorized COVID-19 vaccines to be studied for at least two months (eight weeks) after the final dose. Millions of people have received COVID-19 vaccines, and no long-term side effects have been detected.
By contrast, long-term side effects have been confirmed in some people with COVID-19. Long after their initial recovery, certain patients continue to experience symptoms, including fatigue, pain and memory problems. By failing to mention the known side effects of those experiencing "long COVID," the post is incomplete to the point of being misleading.