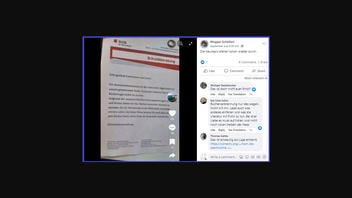 Did the Saxon State and University Library Dresden (SLUB), one of the largest German academic libraries, ask its readers to bring in Russian books "for heating purposes"? No, that's not true: SLUB General Director Katrin Stump denied the leaflet's authenticity and said that the library had filed a criminal complaint about the claim.
The claim appeared in a Facebook post on September 4, 2022.
The caption was originally written in German:
Die Neunazis drehen schon wieder durch.
Translated via Chrome, it said:
The neo-Nazis are going crazy again.

The post contained an image of a German poster with the SLUB logo, which appeared to have been saved from somewhere else.
Here is what it looked like at the time of writing: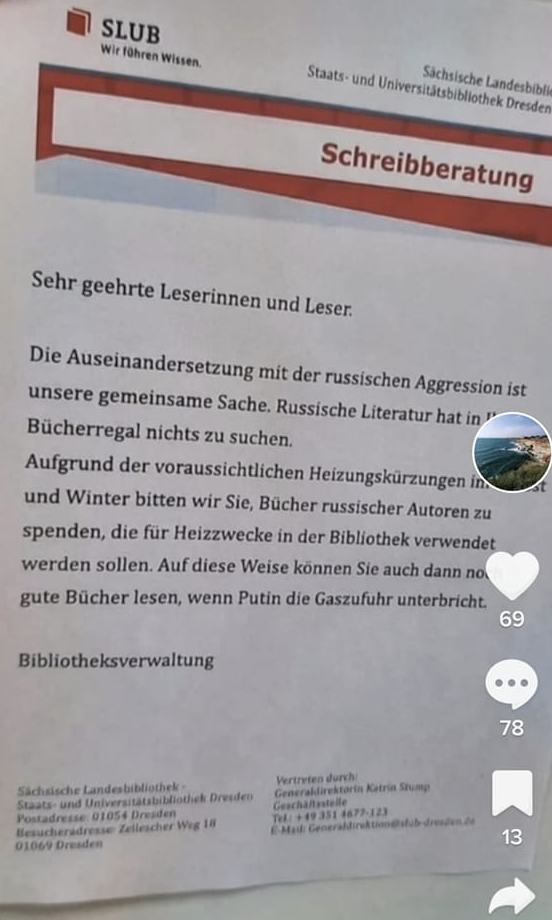 (Source: Facebook screenshot taken on Wed Sep 14 14:07:51 2022 UTC)
Translated via Google Lens, the leaflet said:
Dear Readers.

Dealing with Russian aggression is our

common cause. Russian literature has no

place in the bookshelf.

Due to the expected heating cuts in and

winter, we ask you to donate books by Russian

authors to be used for heating purposes in

the library. That way you can still read good

books even if Putin shuts off the gas supply.
The poster contained the contact information of SLUB's general director, Katrin Stump.
However, two days before the Facebook post was published, on September 2, 2022, SLUB had already denied any connection between the library and the purported letter:
We have already filed a criminal complaint because of the fake letter. Please do not spread the false information any further ...
SLUB's response, published in German, English and Russian, also cited Stump:
As a library, we stand for basic democratic values, reliable information and factual discourse on socio-political issues. I am shocked that several libraries have already been affected by manipulative disinformation in the past few days and that the originators do not even shy away from personal attacks.This shows once again the dangers this poses to our democratically constituted society.
The claim was replicated in several languages, spreading across many social-media platforms. In addition to German, similar posts were published in Bulgarian, Italian and Russian.
Lead Stories has previously debunked other claims related to energy prices and gas shortages.
The neo-Nazi comment by the Facebook poster is part of the portrayal of Nazism as the main feature of Russia's enemies. In connection to Ukraine, this myth has been debunked multiple times.
Lead Stories has fact-checked other controversial claims related to the 2022 Russian-Ukrainian conflict.