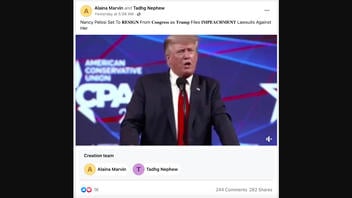 Is House Speaker Nancy Pelosi "set to resign" as former President Donald Trump "files impeachment lawsuits against her"? No, that's not true: The headline that contains this claim is for a video posted on Facebook that does not feature Trump announcing "impeachment lawsuits" against her. Under the U.S. Constitution, former presidents cannot sue for the impeachment of the House speaker or any other elected official.
The claim appeared in a Facebook post (archived here) on September 12, 2022, under the title "Nancy Pelosi Set To 𝐑𝐄𝐒𝐈𝐆𝐍 From 𝐂𝐨𝐧𝐠𝐫𝐞𝐬𝐬 as 𝐓𝐫𝐮𝐦𝐩 Files 𝐈𝐌𝐏𝐄𝐀𝐂𝐇𝐌𝐄𝐍𝐓 Lawsuits Against Her." The video opened with Trump speaking:
People in the country want voter ID so now the Democrats again same old story. They're saying we want voter ID. We've always wanted voter ID. These people are sick. We will completely defund and bar critical race theory.
This is what the post looked like on Facebook at the time of writing: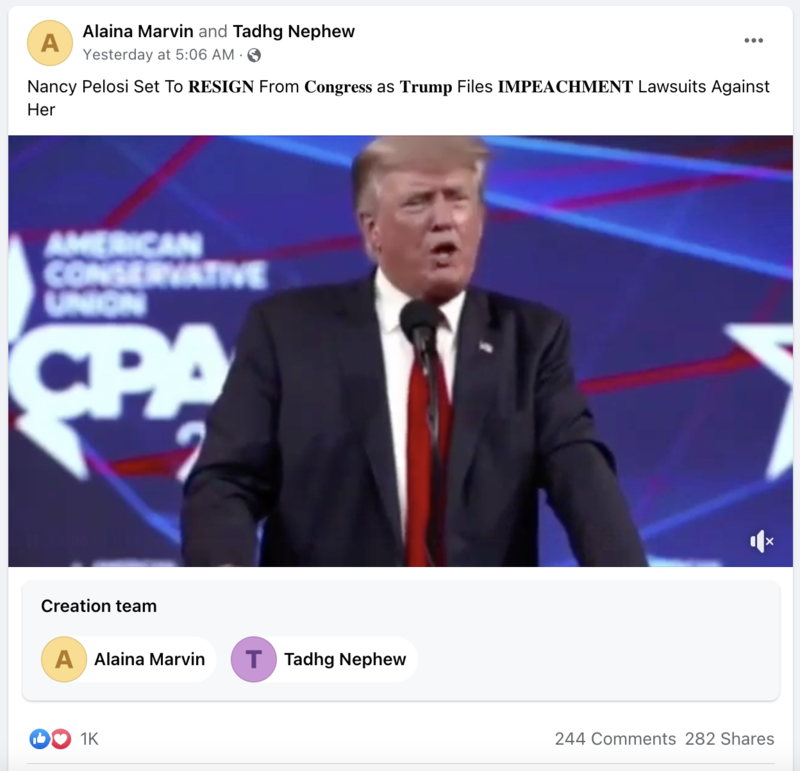 (Source: Facebook screenshot taken on Tue Sept 13 17:14:44 2022 UTC)
The footage shows Trump speaking in Dallas on August 6, 2022, at the Conservative Political Action Conference, an annual gathering of political conservatives. During the video's excerpt of his remarks, he never mentions Pelosi, head of the Democratic majority in the House, or the prospect of her resignation or impeachment.
The clip ends with unrelated footage from an episode of the "Tucker Carlson Tonight" talk show on Fox News. That footage also does not include any mention of impeaching Pelosi.
Under Article I, Section 2, Clause 5 of the U.S. Constitution, only the House can impeach a House speaker:
The House of Representatives shall [choose] their Speaker and other Officers; and shall have the sole Power of Impeachment.
Similarly, only the House can expel a congressional representative. Article I, Section 5, Clause 2 of the U.S. Constitution reads:
Each House may determine the Rules of its Proceedings, punish its Members for disorderly Behaviour, and, with the Concurrence of two thirds, expel a Member.
At the time of writing, a search of Google News resulted in no stories about Nancy Pelosi's alleged plans to resign.



(Source: Google News screenshot taken on Tue Sept 13 23:39 2022 UTC)
This is not the first time Lead Stories has reported on political clickbait headlines in social media posts. Similar fact checks can be found here, here, here and here.