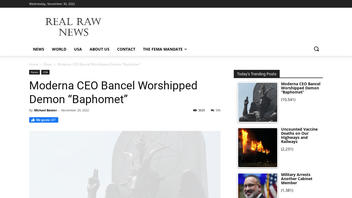 Does Stéphane Bancel, CEO of Moderna, worship Baphomet, commonly considered a "demonic entity"? No, that's not true: The claim uses fabricated "evidence" that immediately discredits the claim. The website on which the claim appeared is known for publishing false information.
The claim appeared in an article published by Real Raw News on November 29, 2022, titled "Moderna CEO Bancel Worshipped Demon 'Baphomet'" (archived here). It opened:
The late Moderna CEO Stephan Bancel, whom the military hanged on November 18, had long worshipped a demonic entity called Baphomet, according to diary-like entries JAG investigators siphoned from the clot shot manufacturer's iPad.
Users on social media saw this title, description and thumbnail:
The article relies on fake information that also originated from Real Raw News and, like this claim, has been debunked by Lead Stories. Bancel was not arrested by U.S. special forces, he was not convicted by a military tribunal and he was not hanged by the U.S. Navy.
A quick Google search engine query of "Stéphane Bancel" coupled with "Baphomet" does not generate any credible information that supports the claims made in the article.
Real Raw News has a long history of publishing false claims in mock news stories, many of them about convictions and executions of various public figures at Naval Station Guantanamo Bay in Cuba. For example, the site reported former Secretary of State Hillary Clinton was hanged (she wasn't); former White House Chief of Staff John Podesta was executed (he wasn't); and that "the military" convicted former Attorney General William Barr on charges of treason (it didn't).
The website for Real Raw News includes a disclaimer that warns readers not to take its content too seriously. Specifically, it says:
Information on this website is for informational and educational and entertainment purposes. This website contains humor, parody, and satire. We have included this disclaimer for our protection, on the advice on legal counsel.

(Source: RealRawNews.com screenshot taken Tue Aug 3 16:39:48 UTC 2021)
Lead Stories has covered claims published by Real Raw News in the past. Previous Lead Stories debunks of Real Raw News items is collected here.