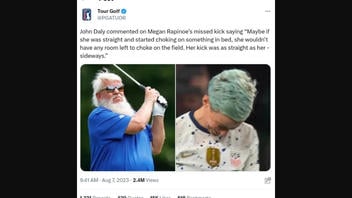 Did professional golfer John Daly make a derogatory/homophobic statement about professional soccer player Megan Rapinoe and her performance at the 2023 World Cup? No, that's not true: The comment was posted on a parody social media account, not on Daly's official social media pages nor in any legitimate news sources. Playing for the U.S. women's team in the 2023 World Cup, Rapinoe missed a penalty kick against the Swedish women's team, ending the game and the team's run in the World Cup series.
The claim appeared in a post published on X, formerly known as Twitter, on August 7, 2023. The post, made by the account @PGATUOR, read:
John Daly commented on Megan Rapinoe's missed kick saying "Maybe if she was straight and started choking on something in bed, she wouldn't have any room left to choke on the field. Her kick was as straight as her - sideways." https://t.co/0ZulKNiBnS
This is what the post looked like on the X platform at the time of writing: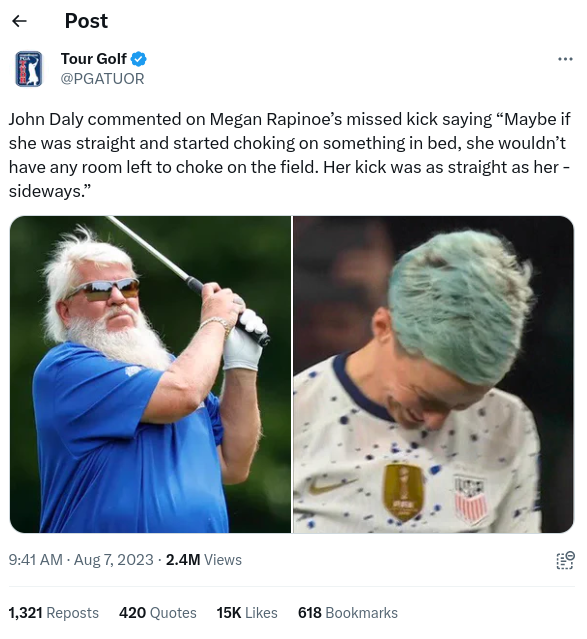 (Source: X screenshot taken on Wed Aug 9 13:57:30 2023 UTC)
John Daly and Megan Rapinoe
There is no evidence that Daly ever publicly made the comment featured in the post. Lead Stories searched for "John Daly" and "Megan Rapinoe" together using Google search and the index of thousands of news sites found no credible information that commentary from Daly about Rapinoe's performance during the 2023 World Cup existed.
Lead Stories also looked on Daly's account on the X platform, his Instagram account and his Facebook account and did not find anything suggesting that he made derogatory comments about Rapinoe.
Parody account
The account that posted the claim on the X platform is not associated with the PGA Tour, an organization that governs professional golf tournaments in North America. The real handle of the PGA Tour on the X platform is @PGATOUR.
Meanwhile, the @PGATUOR parody account on the X platform is clearly satirical. The bio of the account reads:
⛳️Voted "Best Twitter Golf Account"⛳️Not for Boomers or Karens⛳️#Satire⛳️Golf version of @TheBabylonBee and @TheOnion ⛳️#Parody⛳️
A screenshot of the account's bio is included below: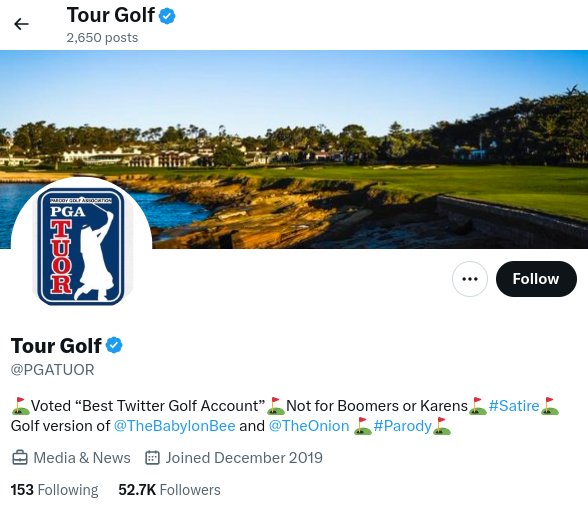 (Source: X screenshot taken on Wed Aug 9 14:19:59 2023 UTC)
Other Lead Stories fact checks
Lead Stories has recently fact checked other misinformation related to Megan Rapinoe's performance at 2023 World Cup. We debunked claims that she was released from her professional team and lost a multi-million dollar broadcasting deal (here) and that she no longer had partnerships with ESPN or Nike (here).