STORY UPDATED: check for updates below.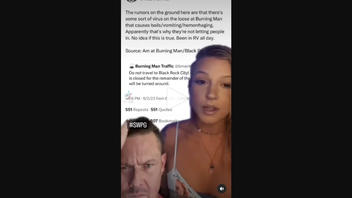 Was a state of emergency declared due to an Ebola outbreak at Burning Man in Black Rock City, Nevada? No, that's not true: There were no reports of known or suspected Ebola cases to the Centers for Disease Control and Prevention (CDC), the agency confirmed to Lead Stories on September 5, 2023. Burning Man representatives confirmed to Lead Stories that such rumors are "unfounded and untrue." Meanwhile, Nevada's emergency manager and homeland security chief told Lead Stories that the state "did not issue any declarations for any other incident or planned special event," including Burning Man.
A version of the claim originated in a video shared on Instagram on September 3, 2023 (archived here), that falsely claimed there was a state of emergency "declared" at Burning Man. A caption with the video read:
Anyone have any information about what's going on at Burning Man? I have a really good friend that was there I'm not sure if he still is.

National Emergency declared at Burning Man 2023! 🤯

They're saying a case od EBOLA is going around?!

Wtf....

Pray for everyone being held there against their will...

#burningman2023 #wow #shtf #swpg #southwestpreppergroup #updates #uhoh #trendingreels
This is what the post looked like at the time of writing::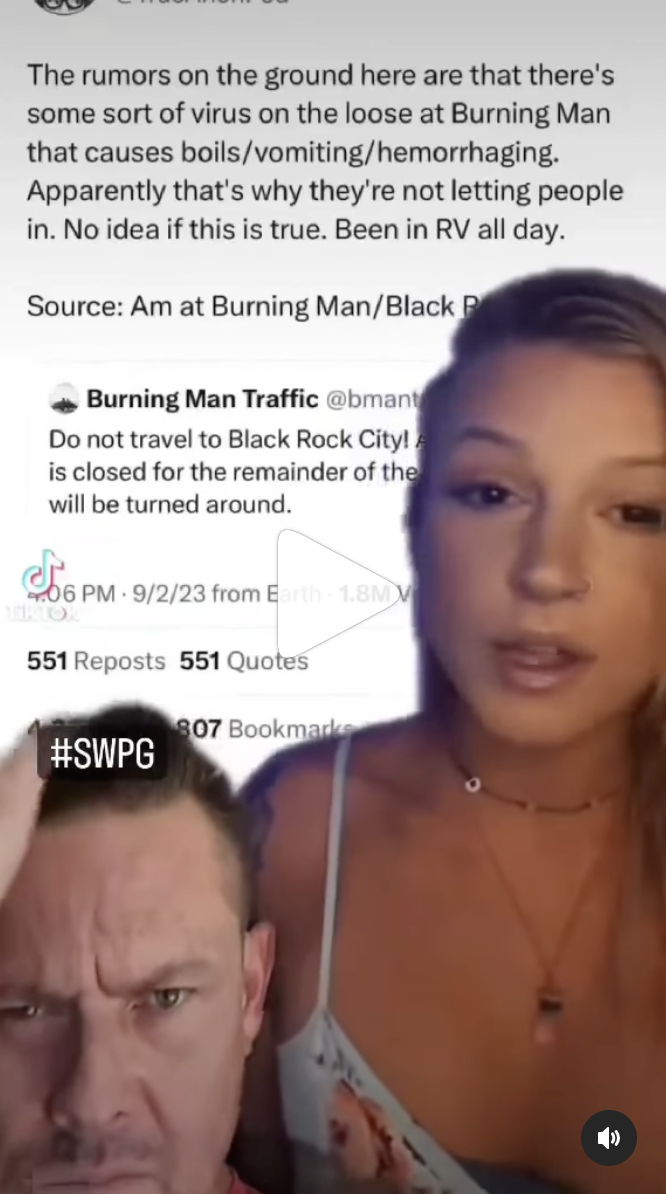 (Source: Instagram screenshot taken Mon Sept 4 01:34:00 UTC 2023)
Nevada Gov. Joe Lombardo declared a state of emergency on August 18, 2023, in advance of Hurricane Hilary making landfall on the West Coast, but there was no relation to the desert festival. Furthermore, multiple officials confirmed independently to Lead Stories that there are no reports of known or suspected Ebola cases associated with Burning Man.
For one, Nevada "did not issue any declarations for any other incident or planned special event," including Burning Man, Division Administrator of the Nevada Division of Emergency Management David Fogerson told Lead Stories via email received on September 5, 2023.
Depending on the situation, a state of emergency can be issued in one of three ways, by either the state's governor or, when federal assistance is needed, by the president or by the secretary of the Department of Health and Human Services (HHS). Neither President Joe Biden's administration nor HHS Secretary Xavier Becerra has issued a state of emergency for Burning Man, according to official government records maintained by HHS and Centers for Medicare & Medicaid Services.
The CDC also confirmed to Lead Stories that there was no evidence of an Ebola outbreak, writing in an email received on September 5, 2023, that:
CDC has not received any reports of Ebola at the Burning Man Festival and has not issued any warnings or had any requests for assistance from the state and local health departments either.
A search through the Burning Man X profile, which is connected to the project and has been sharing updates regarding the festival, did not return any results related to Ebola or any other viral outbreak.
"Quite simply, the online rumors of transmissible illnesses in Black Rock City are unfounded and untrue," a Burning Man spokesperson confirmed to Lead Stories in an email received September 5, 2023. This information was also included in an update related to flooding from heavy rains that was published on September 4, 2023.
Ebola disease is the term for a group of deadly diseases in people caused by four ebolaviruses: Ebola virus, Sudan virus, Taï Forest virus and Bundibugyo virus. Occasional outbreaks in people primarily occur on the African continent, though there was a U.S. outbreak between 2014 and 2016.
Rumors of the deployment of emergency responders were put forward in September 2023 by some on social media to falsely suggest that responses to the situation created by two to three months' worth of rain falling in 24 hours were actually a cover-up to hide a viral outbreak at Burning Man.
For example, included in the video on Instagram above was a screenshot of an authentic post shared by the Burning Traffic group on X on September 2, 2023, that read, "Do not travel to Black Rock City! Access to the city is closed for the remainder of the event, and you will be turned around." However, scrolling through previous posts indicates that this post was made in response to a shelter-in-place issued by organizers following heavy rains -- not due to "some sort of virus on the loose" as was written in the post.
Another iteration of the Ebola claim surfaced on X as early as September 2, 2023, with a fake screenshot said to have been "Tweeted and Deleted" by the CDC: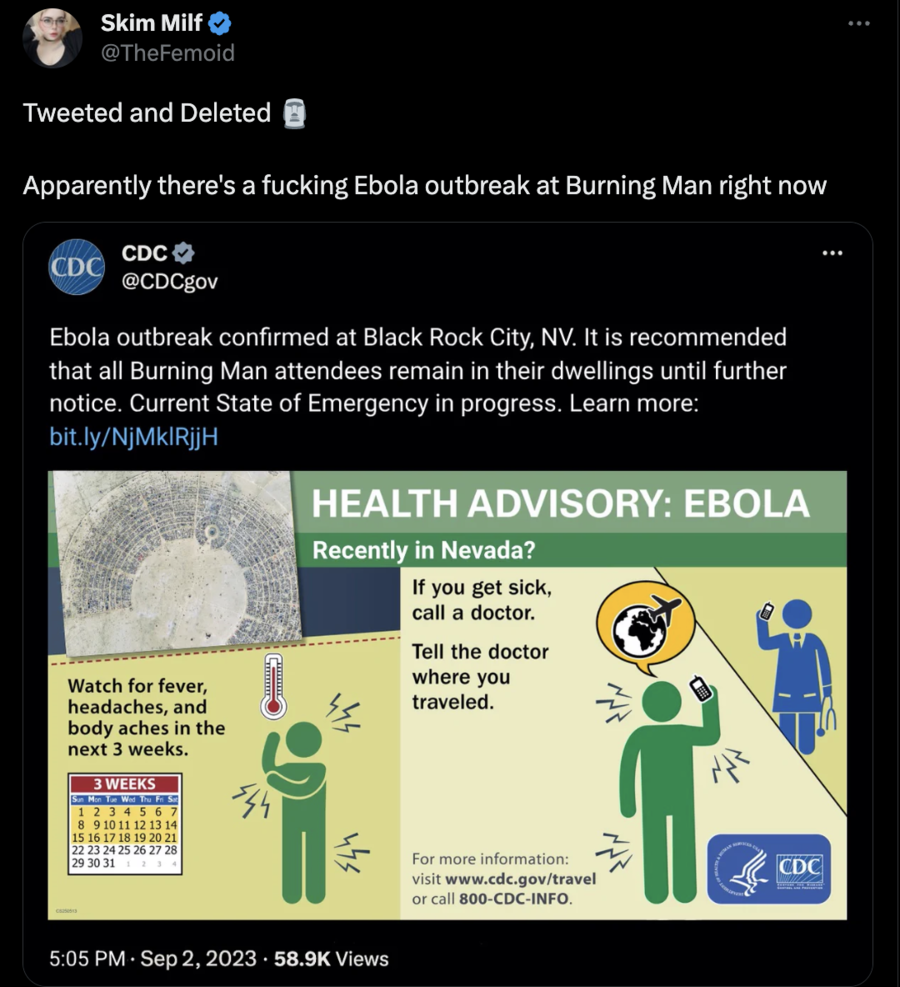 (Source: X screenshot taken Tues Sept 5 17:40:27 UTC 2023)
However, a reverse image search of the screenshot included in the above post determined that it originated in a CDC Morbidity and Mortality Weekly Report following the 2014-16 Ebola virus epidemic in West Africa published on July 8, 2016 (Figure 4). The fake screenshot was created simply by exchanging a map of northwest Africa in the authentic CDC health advisory infographic (below right) with an aerial image of Burning Man (below left):

(Source: Lead Stories screenshot captured Tues Sept 5 17:36:59 UTC 2023)
Lead Stories also checked the bit.ly link (https://bit.ly/NjMklRJJH) included in the above post but it did not return a genuine webpage nor was it archived on the internet archival database, Wayback Machine.
As of this writing, festivalgoers were being allowed to leave the Burning Man event, according to the event's X account.
2023-09-05T22:48:59Z

2023-09-05T22:48:59Z

Adds comment from Burning Man spokesperson discounting rumors of transmissible illnesses as "unfounded and untrue."