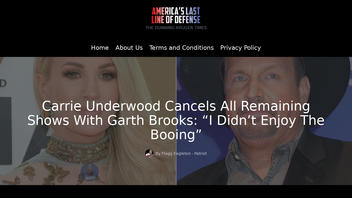 Did music artist Carrie Underwood cancel all remaining shows with music artist Garth Brooks, saying she "didn't enjoy the booing"? No, that's not true: This claim appeared in an article on a satirical website known for publishing fabricated content. That website has a disclaimer that reads, "Everything on this website is fiction."
The claim appeared in an article published by The Dunning-Kruger Times on November 14, 2023, titled "Carrie Underwood Cancels All Remaining Shows With Garth Brooks: 'I Didn't Enjoy The Booing'" (archived here). It opened:
Carrie Underwood isn't used to being booed. She's a performer who loves her art and keeps her personal beliefs and politics to herself. However, when she took the stage for the first of a dozen planned shows with Garth Brooks, she was treated to a round of booing for his opinions.
Users on social media only saw this title, description and thumbnail:
The article continued:
'Other than my faith in our Lord and Savior Jesus Christ,' said Spokesman Joe Barron, 'Ms. Underwood has no comment on politics, Bud Light, Donald Trump, or anyone else.'

That's an excellent policy these days. These famous people basically have two options: Keep their traps shut and do what we the people pay them for, which is to entertain us, or face the wrath of America.

ALLOD political Analyzer Tara Newhole says it really boils down to one thing: Do you want to Make America Great Again, or do you hate the troops? There is no middle ground on that. There just isn't.
Joe Barron is not the spokesman for Underwood. Barron is the name of a deceased friend of Dunning-Kruger Times founder Christopher Blair, with Barron's name showing up as a key witness or source in many of the parodies published by Blair, in made-up roles including coach of the New York Jets, president of the NCAA and "publishing mogul."
There is no evidence that an "ALLOD political Analyzer" named "Tara Newhole" exists; the name is a phonetic pun for the colloquial phrase for an abusive critique.
A search (archived here) of Underwood's website using the phrase "Cancels All Remaining Shows With Garth Brooks" produced no press releases that substantiated this claim.
A search (archived here) for the phrases "Carrie Underwood Cancels All Remaining Shows With Garth Brooks," Carrie Underwood: "I Didn't Enjoy The Booing," using Google News' index of thousands of credible news sites, did not reveal any factual reports that Underwood canceled any shows with Brooks or said she "didn't enjoy the booing" that ensued while she was purportedly onstage with Brooks.
Lead Stories previously found the claim that the Academy of Country Music canceled Garth Brooks' Lifetime Achievement Award to be false.
Lead Stories reached out to Underwood's representatives. This fact check will be updated if any responses are received.
The Dunning-Kruger Times
The Dunning-Kruger Times is a satirical website with an about page (archived here) that has following disclaimer:
About Us

Dunning-Kruger-Times.com is a subsidiary of the 'America's Last Line of Defense' network of parody, satire, and tomfoolery, or as Snopes called it before they lost their war on satire: Junk News

About Satire

Before you complain and decide satire is synonymous with 'comedy':

sat·ire ˈsaˌtī(ə)r noun: The use of humor, irony, exaggeration, OR ridicule to expose and criticize people's stupidity or vices, particularly in the context of contemporary politics and other topical issues.

Everything on this website is fiction. It is not a lie and it is not fake news because it is not real. If you believe that it is real, you should have your head examined. Any similarities between this site's pure fantasy and actual people, places, and events are purely coincidental and all images should be considered altered and satirical. See above if you're still having an issue with that satire thing.
The website is named after the Dunning-Kruger effect, a term from a psychology experiment that describes the phenomenon of being ignorant of one's own ignorance. (That experiment has been disputed by a math professor.)
It is run by self-described liberal troll Christopher Blair.