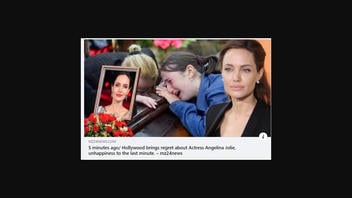 Has Oscar-winning actress and humanitarian activist Angelina Jolie passed away as of December 7, 2022? No, that's not true: No credible news organizations have reported her death as of December 7, 2022, and TIME magazine published on December 7, 2022, a recent video interview she conducted.
The claim appeared on the website mz24news.com on December 6, 2022. The headline read:
5 minutes ago/ Hollywood brings regret about Actress Angelina Jolie, unhappiness to the last minute.
Here is how the post looked at the time of the writing of this fact check: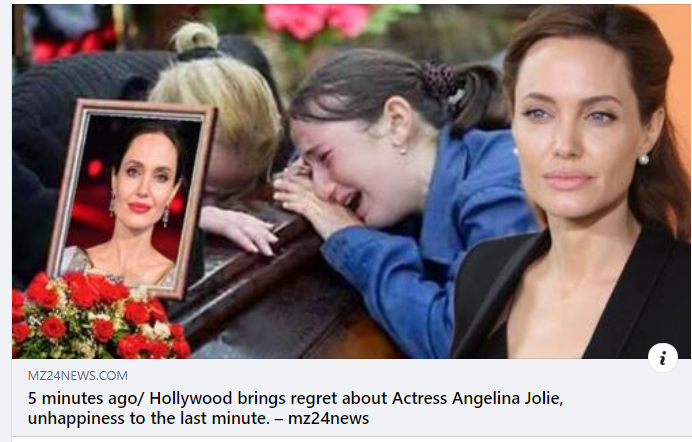 (Source: mz24news.com screenshot taken on Wed Dec 07 17:53:12 2022 UTC)
Underneath the "mz24news.com" logo at the top left of the webpage, a black banner reads "SAMPLE PAGE." The post's headline and a composite image of Jolie and people crying over a coffin are repeated multiple times on the page without any accompanying text.

The website also displayed a suspicious pop-up that asked users to install what was said to be "Adobe Flash Player 7," which was discontinued in 2020. This appears to be a tactic to trick users into installing malware on their computers.
A separate but similar website, thedailynews24hr.com, used the same technique this month to claim falsely on December 5, 2022, that Canadian singer Celine Dion had died, Lead Stories reported.

Jolie's verified Instagram account in no way suggests that she has passed away. On December 7, 2022, after mz24news.com had claimed she had died, the account featured a video interview between Jolie, who works as a contributing editor for the news magazine TIME, and Iranian activist Roya Piraei. The video and accompanying story were also posted on TIME's website, which contained no mention of the death of Jolie.

A Google News search using the keywords "Angelina Jolie Has Passed Away" and "2022" produced no results.
On the contrary, a November 25, 2022, Harper's Bazaar article titled, "Angelina Jolie's Daughter Zahara Came Home for Thanksgiving," displayed Jolie and her daughter attending an exhibit at the Brooklyn Museum in New York.

Lead Stories contacted the public relations agency representing Jolie for a statement related to the claim about her death. If a response is received, this fact check will be updated accordingly.
Websites regularly attempt to profit from Jolie's name recognition: In a January 2022 fact check, Lead Stories debunked as a clickbait advertisement the claim that Jolie gave a "rare Interview touting a keto weight-loss."
Additional Lead Stories fact checks of death hoaxes about celebrities can be found here.