STORY UPDATED: check for updates below.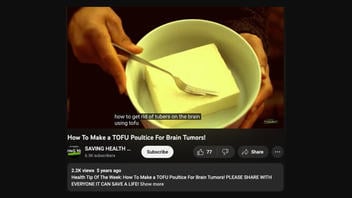 Does a cold compress of tofu poultice applied to the back of the head "starve" and "get rid of" brain tumors? No, that's not true: While there are health benefits associated with eating tofu, searched for and did not find publicly available credible evidence that external cold tofu compresses applied to the back of the head can "starve" or "get rid of tumors on the brain."
The claim originated in a two-minute 36-second video shared on the SAVING HEALTH NETWORK YouTube channel on March 23, 2018, (archived here) titled, "How To Make a TOFU Poultice For Brain Tumors!" Clips from this video were recirculated on TikTok. They feature a person in the video identified as David Cook, who said, in part:
Today, we're going to show you how to get rid of tumors on the brain using tofu ...

The reason we're using tofu is because when you freeze it, it will stay cold a lot longer than a block of ice would, and the reason we want frozen tofu in the case of brain tumors is cold causes blood to flush away. As we place this on the back of the head, the blood in the brain is gonna flush away from the tumor, which will starve the tumor and in addition to that, we place the feet in a hot foot bath as the heat will draw the blood towards the feet, also drawing the blood away from the brain and starving the tumor ...
Below is how the video appeared on YouTube at the time of writing: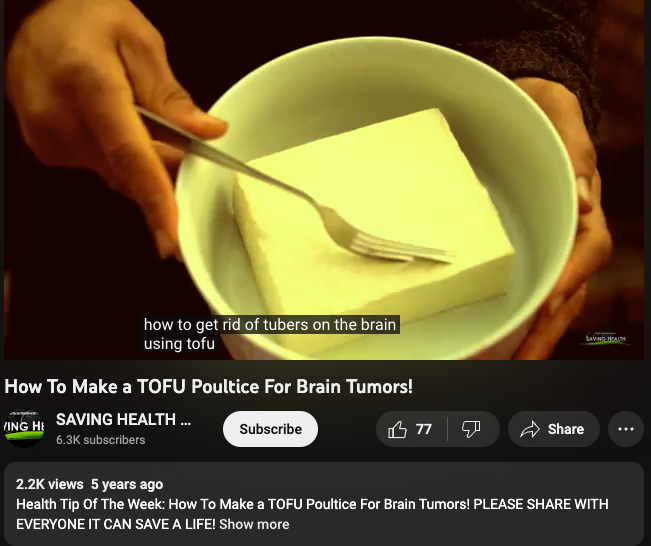 (Source: YouTube screengrab was taken June 23 18:24:31 UTC 2023
While there are health benefits associated with the consumption of tofu, Lead Stories found no evidence to suggest that external cold tofu compresses applied to the back of the head can "starve" or "get rid of tumors on the brain." The person in the video provided no evidence, sources or other proof to validate the claims in the video.
The National Cancer Institute (NCI) disseminates evidence-based, scientifically accurate information about cancer to the public. In an email to Lead Stories received June 27, 2023, the agency stated that it "does not appear from a search of our resources that the NCI maintains information supporting the claim."
SAVING HEALTH NETWORK features other medical "miracle" stories that make unproven claims about medical treatments, including that cayenne pepper can stop internal bleeding and that frankincense can "help fight cancer." The page joined YouTube on December 29, 2014. Here's how it describes itself on the "about" page:
We share experiential knowledge to help people take control of their own health using home remedies! ...

Here you will find home remedies to improve your health! Diabetes. Cancer. Aids. Tumors. Fibroids. Ulcers. Heart Attacks. Prostate Health. Colds. Anything! We have a Lifestyle Center where people come to us for help and we see much success, not because of what we do, but because with God, nothing is impossible! We are put on the earth to help you.
A brain tumor is a mass of abnormal cells in the brain that has "grown out of control," according to the American Cancer Society. Brain tumors are caused by changes in the DNA that control how cells function, which can cause abnormalities or changes that contribute to the creation of brain tumors. Both benign (noncancerous) and malignant brain tumors, which can grow to invade nearby tissue, can be life-threatening if left untreated.
Tumors in the brain increase pressure inside the skull, which is known as intracranial pressure. That can cause swelling or block the flow of cerebrospinal fluid, which can lead to headaches, nausea, vomiting, blurred vision, personality changes and seizures, among other symptoms.
That is why experts say it's important to diagnose and treat brain tumors under the guidance of a medical professional.
Healthcare providers may order a number of tests to determine whether a brain tumor is present, including examining a patient's medical history and physical exam, as well as ordering imaging tests, a biopsy, a spinal tap, or blood and urine tests.
Determining how to treat a brain tumor depends on a number of factors, including the location and size of the tumor as well as the patient's history. Lead Stories found no record of brain tumors being treated by cold tofu compresses after scouring related studies and scientific research.
According to the University of California, San Francisco, brain tumors are "treated with surgery, radiation therapy, and chemotherapy." Surgery is often done by a craniotomy, or making a small opening in the skull, to remove all or part of the tumor. Radiation utilizes high-powered rays to damage cancer cells and inhibit their ability to grow, and is typically used to destroy tumor tissue that can't otherwise be removed through surgery. Chemotherapy employs drugs given either orally or injected into a blood vessel, muscle or into cerebrospinal fluid to kill cancer cells.
Cold tofu compresses are not recognized by cancer research groups or medical professionals as a safe or effective way to treat brain tumors.
Lead Stories has also reported there is no evidence that regularly drinking coffee increases the odds of developing cancer, that consuming apricot seeds does not prevent cancer and that castor oil compresses are not proven to cure breast cancer or tumors.
2023-06-27T18:09:27Z

2023-06-27T18:09:27Z

Adds quote from National Cancer Institute.