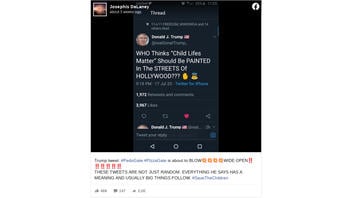 Did President Trump post a tweet suggesting "child lifes matter" should be painted on the streets of Hollywood? No, that's not true: The message was published on a fake Trump Twitter account, a fact missed by some who believed it was a sign that the president was signalling belief in the QAnon Pizzagate conspiracy theory. The bogus account unsername @realDonalTrump_, is missing a "d" and has and underscore symbol, which is not part of Donald Trump's authentic username, @realDonaldTrump.
The claim appeared in a post (archived here) shared on Facebook on July 18, 2020 with the introductory text that read:
Trump tweet. #PedoGate #PizzaGate is about to BLOW💥💥💥💥WIDE OPEN‼️‼️‼️‼️‼️‼️
THESE TWEETS ARE NOT JUST RANDOM. EVERYTHING HE SAYS HAS A MEANING AND USUALLY BIG THINGS FOLLOW. #SaveTheChildren
The rest of the post was a screenshot of the fake tweet, which read:
WHO Thinks "Child Lifes Matter" Should Be PAINTED In The STREETS OF HOLLYWOOD???
This is what the post looked like on Facebook at the time of writing:
(Source: Facebook screenshot taken on Tue Aug 11 15:15:22 2020 UTC)
"Child Lifes Matter" is a variation of a hashtag popular among QAnon followers who believe that President Trump is engaged in a secret war with "Deep State" agents who have purportedly kidnapped millions of children for sex trafficking.
Lead Stories has debunked several false conspiracy claims concerning child sex trafficking, including:
Fact Check: 409,152 Non-Sealed Indictments For 'Child Pedophilia' And Trafficking Offenses NOT 'Coming To The Surface'
Fact Check: Maps Of 'Human Trafficking Hot Spots' And 'China Virus Hot Spots' Do Not Have A Connection
Fact Check: No Evidence Wayfair Is Selling Human Trafficked Children On Their Website With Very Expensive Cabinets
Fact Check: 'Thousands Upon Thousands' Of Children Purportedly Kidnapped By A Satanic Pedophile Ring Have NOT Been 'Pulled From Underground Bunkers'
Fake News: IG Report Did NOT Say Hillary Clinton Committed 'Sexual Crimes Against Children' And That Barack Obama Covered Up Those Crimes
Fake News: CIA Agent Does NOT Blow Whistle, Does NOT Say 'We Supply Elite Pedophiles With Children'
Here are some of the debunk articles published by Lead Stories concerning QAnon claims:
Fact Check: Adrenochrome Is NOT Obtained From Adrenal Glands Of Living Children Or Used In Satanic Rituals By The Elite
Fact Check: That Was NOT JFK Jr. Spotted At July 3, 2020, Mount Rushmore Celebration
Fact Check: Tom Hanks, Others NOT Arrested For Pedophilia Or Other Crimes in QAnon Conspiracy
Fake News: State Of The Union Guests Were NOT Wearing "Q" Flag Pins
Fake News: FBI Intelligence Bulletin Was NOT Falsified
Fake News: President Trump Did NOT Reveal He Is In Fact
Fake News: JFK Jr. Is NOT Alive And Will Not Replace Vice President Pence as Donald Trump's 2020 Running Mate
Fake News: Blackouts In Major Cities Are NOT Likely White Hat EMP Attacks In Wake Of Epstein Arrest