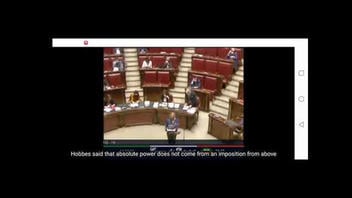 Did the Italian government call for the arrest of Bill Gates for "crimes against humanity"? No, this is not true. While one lone member of the Italian Parliament did attack Gates in a speech, the word "arrest" was never spoken and the Italian government did not call for the Microsoft co-founder's arrest.
The claim appears in
a video
(archived
here
) published on YouTube on May 14, 2020, titled "Italian Government call for arrest of Bill Gates" which opened:
Italian Government call for arrest of Bill Gates
Click below to watch the video on YouTube:
Here is a screenshot of the speech: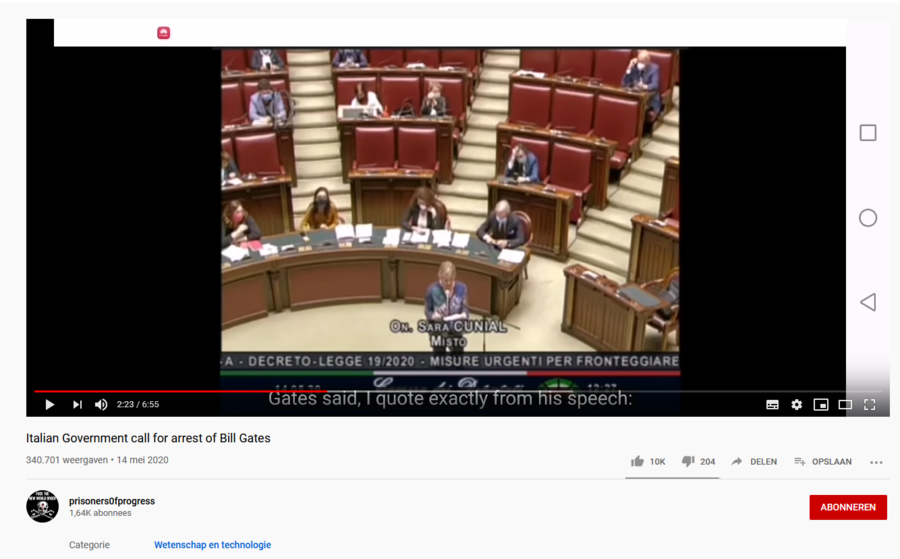 Italian MP Sara Cunial, an anti-vaxxer, lambasted Gates in the Parliament, drawing on familiar conspiracies about the billionaire philanthropist. Cunial said Italian President Sergio Mattarella should refer Gates to "the International Criminal Court."
Such a referral could, possibly, spark an investigation into the claims Cunial made in the seven-minute speech before Parliament, but is not a direct call for Gates' arrest. Plus, she's only one member of Italy's parliamentary, multi-party government -- not the government itself. Her speech included debunked allegations that Gates seeks dominion over the human race through depopulation efforts, is involved in schemes to profit off the coronavirus and has connections to purported dangers of 5G wireless technology.
Cunial, who was expelled by her own party a year after entering Parliament in 2018, was interrupted with jeers during the speech. But she pressed on, trying to make the case that billionaire Gates, who has donated $300 million to fund efforts to eradicate COVID-19, was looking for "total control, absolute domination of human beings, transformed into guinea pigs and slaves, violating sovereignty and free will."
There is no basis to such a claim, other than dozens of conspiracy theories, including that Gates -- with the ID2020 Alliance -- is looking to implant tech into people to track health and other data about everybody using quantum tattoos to reprogram immune systems. Lead Stories has called out this claim as false.
Cunial packed a lot of allegations into the seven minutes, with remarks critical of Italy's safety measures, such as lockdowns, to protect against the novel coronavirus that causes the disease COVID-19. She said that "corrupted mass media" was trying to "anesthetize" the minds of everyone to Gates' doings by infringing on people's rights and subjecting them to poverty, hunger and the status of "slaves" in clear violation of the Nuremberg Convention's principles adopted by the UN after the Nuremberg trials of Nazis.
The International Business Times on May 18 called the speech "a bizarre rant."
Her first mention of Gates -- a "vaccine criminal" -- comes about two minutes into the speech, when she refers to him as "known philanthropist and savior of the world." At that point, she said that, in 2018, Gates "prophesied" a pandemic, and she went on to note Event 201 last October -- an event that has drawn conspiracists together over the false idea that it was a prediction of the coming coronavirus pandemic.
The novel coronavirus was first reported in Wuhan, China, in December. Lead Stories has previously debunked the Event 201 claim, noting it was a table-top exercise that had no relation to, or contained any prediction of, the coronavirus.
But before Event 201, there was a 2018 speech by Gates in which he said preparedness for any future pandemic was woefully inadequate. That is the prohesy Cunial refers to in her speech. Here is how the Washington Post covered the speech in 2018:
And here is an animation released by the Bill & Melinda Gates Foundation of the possibilities he feared:
Cunial said Gates has been scheming for years with people and institutions through their vaccination efforts to kill off a huge percentage -- 10 to 15 percent, according the MP -- of the population:
For decades, Gates has been working on depopulation policy and dictatorial control plans on global politics, aiming to obtain the primacy on agriculture, technology and energy...On this table, there is the entire Deep State in Italian sauce."
That has also been shown to be false by Lead Stories.
She also claimed that Gates sterilized millions of women in Africa through vaccines -- an allegation debunked by Africa Check in February 2019 -- and that he is responsible, through vaccines, for causing the crippling of hundreds of thousands of children in India. Lead Stories has also debunked this claim.
On 5G, Gates, who now works with Microsoft as an adviser, may well advise the adoption of 5G. But Microsoft, just on May 14, acknowledged it's full speed ahead with the company's plans to deploy the technology. That said, there is no evidence that 5G is more harmful than current wireless technology, as Lead Stories has shown over and over.
And there is simply no evidence that Gates, who pushes for global health care, has an interest in control over the globe.
In any case, in a call for Mattarella to refer Gates to the ICC, she said:
Next time you receive a phone call from the philanthropist Bill Gates, forward it directly to the International Criminal Court for crimes against humanity."
No such referral has been made. Plus, the ICC clearly states on its site:
As a judicial institution, the ICC does not have its own police force or enforcement body; thus, it relies on cooperation with countries worldwide for support, particularly for making arrests, transferring arrested persons to the ICC detention centre in The Hague, freezing suspects' assets, and enforcing sentences.

While not a United Nations organization, the Court has a cooperation agreement with the United Nations. When a situation is not within the Court's jurisdiction, the United Nations Security Council can refer the situation to the ICC granting it jurisdiction. This has been done in the situations in Darfur (Sudan) and Libya."
RT, a global and 24-hour news outlet that "creates news with an edge for viewers who want to Question More...with a Russian viewpoint on major global events" had this to say about Cunial's speech:
An Italian lawmaker has managed to bring the conspiracy blame-game to an entirely new level, exercising her parliamentary privilege to blast Bill Gates as a "vaccine criminal" and globalist tool.

Bill Gates and his latest anti-coronavirus efforts have been at the center of the wildest theories that explore possible sinister motives behind the billionaire's activities. In arguably the most high-profile outcry last week, an Italian MP for Rome Sara Cunial delivered a speech rarely (if ever at all) heard in any parliament."