STORY UPDATED: check for updates below.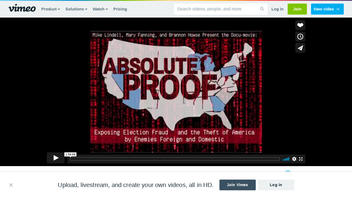 By Dana Ford and Alexis Tereszcuk
Does Mike Lindell's "Absolute Proof" video, which promises to expose election fraud, contain only factual and proven statements about the 2020 election? No, that's not true: The nearly two-hour video recycles familiar conspiracy theories, touching on claims that have been widely and repeatedly debunked. Among the disproven allegations are that dead people voted, that votes were flipped in a small Georgia county and that the election was stolen by foreign countries, specifically China, via the manipulation of voting machines. Multiple independent experts have rebutted those claims and Lindell presented no credible corroboration.
The video (archived here) from the MyPillow CEO was published on Vimeo on February 5, 2021. Vimeo removed that version. It was then posted to YouTube, which removed it shortly after this debunk was published. The video was then published to Rumble. Titled "Absolute Proof: Exposing Election Fraud and the Theft of America by Enemies Foreign and Domestic," the video included comment from Lindell and others. Toward the start of the video, he said:
What you're going to watch during this show is 100% proof that the big thing was the theft by these other countries that came in to attack our country through these machines that are made to steal elections.
Users on social media saw this title, description and thumbnail:
This is "Absolue Proof" by Lindell Management on Vimeo, the home for high quality videos and the people who love them.
Here is what it looked like on Rumble on February 5, 2021 at 11 a.m. Pacific Standard Time.
Contrary to Lindell's assertion, there is no credible evidence that proves the 2020 election was stolen. The purported proof held up by Lindell is, at turns, circumstantial, conspiratorial and just plain false. For example, he pointed to debunked data. Lindell said:
All of a sudden, they brought me a piece of evidence that's 100% proof, it's like a print of inside the machine, of the timestamp that showed other countries attacking us, hacking into our election through these machines, and it shows the votes flipped.
He's made this claim before. Lindell was referring to the contents of a discredited article, published by The American Report, which claimed it had evidence China, Russia and others "hacked" the vote. The article appears to rely on screenshots from an anonymously registered website that appears to feature a crude forgery of election data sheets. Lead Stories covered that article and explained how easily the screenshots could be fabricated. See our reporting here.
At 4 minutes, 5 seconds, Lindell showed charts that listed the number of ballots that he said demanded investigation, in places like Georgia, Pennsylvania and Michigan -- all battleground states. The purported reasons were varied.
Many of his state claims have been debunked before, including the allegation that thousands upon thousands of dead people voted in Michigan. That's not true. State election officials have denied it and said that ballots of voters who have died are rejected in Michigan. See our previous reporting on the subject here.
In Pennsylvania, Lindell claimed that ballots accepted up to three days after Election Day were somehow tainted or proof of fraud. But, as we've reported, that was allowed for voters of any party. Mail-in ballots had to be received by November 6, three days after Election Day, the state's Supreme Court ruled.

In Georgia, Lindell again made the claim that dead people and children voted. Lead Stories has found no credible evidence to support either claim. See our previous reporting on those allegations here and here.
Also related to Georgia, Lindell interviewed a guest, identified as Col. Phil Waldron, who made unsubstantiated claims about Ware County. He said that 13% of the vote there was taken from former President Donald Trump and that same number was then given to President Joe Biden. As we've reported before, there was no experimental test run of voting machines there and even the original poster of the information eventually conceded it was not true. The chief election officer in Ware County told Lead Stories the claim is "100% fake."
Waldron's interview, which started around 12 minutes, 40 seconds, was meant to bolster Lindell's allegation that the election was stolen via the manipulation of voting machines. He mentioned Dominion Voting Systems by name, claiming it has connections to China -- an allegation that Dominion has repeatedly denied and that is not substantiated by publicly available documents. Waldron said:
I believe from what I've seen, and the witnesses that I've talked to, that this is a coup that definitely involved elements inside our own country and inside our own federal government -- definitely part of a coup that was aided and abetted by a foreign threat nation state ... China.
Lead Stories has written, exhaustively, about the claim that votes for Trump were deleted and switched to Biden.
Dominion, U.S. government cyber security teams, established independent private voting technology experts and election officials have all said that's not possible and defended the integrity of the 2020 election, which has been described as the "most secure in American history." The use of auditable paper ballots has conclusively proven in several states there was no digital sleight of hand and multiple audits have proven machines accurately tallied votes cast. See our previous reporting here.
Debunked Guests
Lindell's video included interviews with a number of controversial guests, all of whom made dubious and unsupported claims about the 2020 election.
Following Waldon, at 23 minutes, 45 seconds, Lindell introduced Russ Ramsland, with the Allied Security Operations Group in Dallas, Texas. Lead Stories has written about him before. He's claimed that voting software used in Antrim County, Michigan, was designed with inherent errors to create systemic fraud. Ramsland told Lindell that he's also looking at data, on a limited basis, from two other counties that are "worse" than Antrim, but he did not say which ones and offered no details. We've previously debunked his team's claims about Antrim County. Read that reporting here.
At 48 minutes, 53 seconds, Lindell introduced Dr. Shiva Ayyadurai, who says that he lost the Republican senate primary in Massachusetts due to election fraud, and that officials destroyed ballots, a claim which Lead Stories has debunked.
"Oh by the way, he created emails," Lindell said of Ayyadurai, who agreed, saying, "I did, I created emails," an assertion, included on one of Ayyadurai's websites, that has been challenged by technology experts.
"He knows all about these machines," Lindell said about Ayyadurai.
"This validates the election fraud with these machines," Lindell claimed, without mentioning which machines. Ayyadurai shared details in the video about Diebold machines from 2002, and not Dominion or Smartmatic which have been targets in the 2020 election.
"Were you able to prove that your election was stolen by machines?" Lindell asked.
"What we proved, Mike, we showed that the state had deleted the ballot images," Ayyadurai claimed, talking about Massachusetts votes in the primary election he lost. "They take that paper ballot, it goes into a machine and what happens in that machine? The paper gets converted into an image, called a ballot image. No different than you taking a picture with your iPhone. What is actually counted? The paper ballot is put aside. The machine, the electronic AI, actually tries to figure out where the circles are. The machine is counting the ballot image. At that point I realized oh my god. The ballot image is the ballot. The images are the ballot."
In a phone interview with Lead Stories on Sept. 25, 2020, Debra O'Malley, a spokeswoman for the Secretary of the Commonwealth of Massachusetts, countered his claims, saying:
Ballots that are cast in a federal election, and marked as such, according to federal law, cannot be destroyed or re-examined except in the case of a recount or a court order for 22 months after the election.
This law, she said, was followed for the Sept. 1, 2020 primary election, in which Kevin O'Connor won with 59.7% of the vote and Ayyadurai received 39.4%. The "misinformation" came after her office informed Ayyadurai that cameras were not on the counters that were used in the primary. He apparently was asking for images of the ballots cast, and the same day he was told there were no images, he took to Twitter and Facebook and claimed they were destroyed, O'Malley said. Once cast, the ballots are sealed.
"The ballots are the ballots; they are the physical ballots marked by the voters," O'Malley said in response on Sept. 28, 2020. "And those ballots were sealed on Election Day, and they remain under seal in each election office."
Moreover, Ayyadurai would not have been privy to scanned images even if they existed; giving out such information is forbidden by state law. And, Ayyadurai, if he disputed the outcome of the election, had only to gather 10 signatures from inside a ward or precinct throughout the state to request a recount. He did not do so by the 5 p.m. Sept. 4, 2020, deadline, officials said.
Back to the video, around 1 hour, 4 minutes, Lindell introduced Melissa Carone, a woman whose claims about election fraud in Detroit, Michigan have been dismissed by a judge and debunked by Lead Stories.
Lindell claimed she was "hired by Dominion," a claim the company has refuted, saying she was "hired through a staffing agency for one day to clean glass on machines and complete other menial tasks," in a letter sent to her by Dominion's attorneys, as Fox 2 Detroit reported.
She told Lindell she saw thousands of votes for Biden and not a single vote for Trump during her shift. She also claimed Dominion voting machines jammed and that invalidated ballots were being counted multiple times, and when she reported it to her supervisor she was told, "I don't want to hear that we have a problem. We are here to assist with IT work." Carone claimed the manager was a part owner of Dominion.
When Carone filed an affidavit claiming she saw voter fraud in Detroit, as part of a lawsuit filed by Trump supporters, Chief Judge Timothy Kenny of the Third Judicial Circuit Court in Michigan dismissed her claims in a November 13, 2020, court ruling, stating her "allegations simply are not credible."
Around 1 hour, 8 minutes, Lindell introduced Matt DePerno, an attorney leading a voter fraud lawsuit against Antrim County.
Lead Stories debunked a DePerno claim that Michigan officials were caught on tape forcing audit volunteers to count multiple ballots with the same signature. American ballots are not signed and Lead Stories debunked other elements of that claim January 15, 2021, in this report: https://leadstories.com/hoax-alert/2021/01/fact-check-michigan-officials-not-caught-forcing-audit-volunteers-to-count-multiple-ballots-with-matching-signature.html
Attorneys for Dominion sent a letter to DePerno, warning him litigation was "imminent," and accused him of being among "architects and drivers of the ongoing misinformation campaign against Dominion," the Traverse City Record Eagle reported.
Around 1 hour, 26 minutes, a video of Dominion executive Eric Coomer is played as DePerno continues to falsely claim that Dominion voting machines were connected to the internet and votes were changed. This video is at the center of the false claim by conspiracy theorists that Coomer had "admitted" how the company's equipment can be used to change votes. What Coomer was actually doing in the video was demonstrating in Chicago how election officials could remedy issues when ballots are ambiguously or incorrectly marked. Lead Stories debunked the claim on December 1, 2020.
Around 1 hour, 29 minutes, Lindell claimed, "If you're on the internet the bottom line is you can cheat." DePerno said, "The machine results do not match up to the real ballots."
Around 1 hour, 36 minutes, Lindell hosted an appearance via phone of Mary Fanning, who is described as a "National Intelligence Researcher and Author." Lead Stories on November 3, 2020 debunked her claims about a super-secret vote-stealing system called the Hammer and the Scorecard and on November 30, 2020 debunked her claims that U.S. Army Special Forces troops seized a server farm in Frankfurt, German.
Fanning claimed to have found "forensic evidence of foreign footprints as they entered our election and a cyber warfare attack on our election." There is no evidence of foreign interference into the 2020 election, as the U.S. Cybersecurity & Infrastructure Security Agency (CISA) said.
Fanning cites unnamed "cyber security experts" who "started collecting information on November 1st" who are supposedly the source of a giant chart that she claims "proves" election fraud and "foreign intrusion", often supposedly coming from China.

She never explains who these experts are or how they collected the data, which would seem crucial information if it is to be used as evidence of anything.
She then claims the data shows lists of IP addresses and IDs of computers from foreign hackers "entering the election" by attacking American IP addresses and IDs. It lists two possible methods of intrusion: "Firewall" or "Credentials".
No explanation is offered on how these attacks would even work or what kind of equipment they were targeting. Also absent is an explanation of how they would change the votes on the actual paper ballots that were used and hand-recounted in several places without anyone reporting any huge vote differences.
A second chart with slightly differerent column names also had a column titled "VOTES CHANGED" that supposedly showed how many votes President Trump "lost" in several counties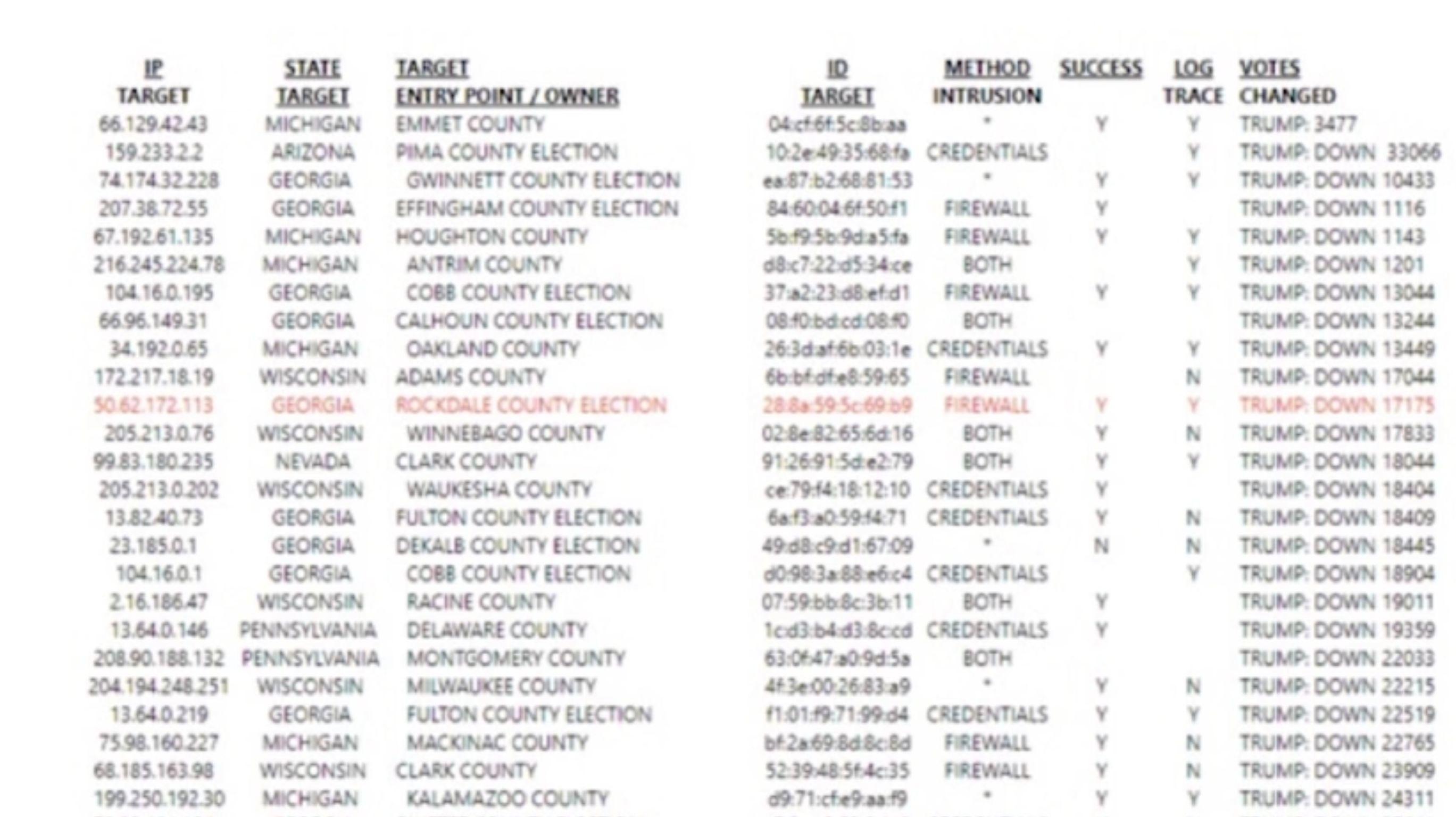 It shows Trump down 17,044 votes in Adams County, WI or down 23,909 in Clark County, WI, places where only 11,818 and 14,898 ballots were cast in total, respectively.
The video does not explain how nobody would notice a decrease in total votes of over 50% of what was expected. The "Votes lost" column is also weirdly incremental for long stretches: each number is slightly higher than the one before, except in the first four lines of the chart where it seems to fluctuate randomly. The chart looks very similar to one that Lindell also promoted several weeks ago that included several indications of being a sloppy forgery.
Lindell does not seem to understand much of the technical "explanation" and does not question the source of the data nor the methods by which it was supposedly obtained, but he appears impressed by it, exclaiming at one point that it is "proof positive" and "incredible" even though it is severely lacking in several ways as we've demonstrated.
Around 1 hour, 50 minutes, Lindell wrapped up the video with an appearance by Lt. General Thomas McInerney, (ret.). On November 3, 2020, Lead Stories debunked his claim the CIA was colluding with Joe Biden to steal the election. On January 11, 2021, Lead Stories fact-checked McInerny's celebratory claim that rioters looting the U.S. Capitol had captured the House Speaker's laptop. The laptop turned out not to be valuable booty for those whom the retired U.S. Army General supported in their efforts to overthrow by force the constitutionally elected government of the United States. It was only a conference room item, connected to projectors for use in screening presentations.
Toward the end of the video, Lindell said to the camera, "The purpose of this whole show is to show everyone in the whole world that these machines, that this was the biggest fraud, the biggest crime I believe against humanity. This is a crime against humanity." As Lead Stories reported, CISA has described the 2020 election as the "most secure in American history." You can read its full statement here.
Lead Stories has debunked dozens of false claims, collected at this link about Dominion Voting Systems and other computer voting companies engaging in election fraud.
False: Myanmar's contested election used Dominion technology;

False: Votes for Donald Trump in Michigan and Pennsylvania were switched to Biden by Dominion technology;

False: Dominion technology can be hacked into via a modem;

False: Joe Biden's sister is married to Dominion's owner;

False: Antrim County, Michigan results prove Dominion technology was set up for vote fraud;

False: China owns Dominion;

False: Arizona votes were "eaten from Mr. Trump and handed to Mr. Biden";

False: Video of a Dominion Voting Systems presentation shows how ballots can be changed;

False: U.S. Army forces seized a server farm in Germany with evidence of fraud;

False: Dominion vice president Eric Coomer is missing and its headquarters are shuttered;

False: A CNN election results graphic proves Dominion stole votes from Donald Trump;

False: Sen. Diane Feinstein's husband is part-owner of Dominion;

False: Dominion technology uploads U.S. votes to servers in Europe before tallying them;

False: Dominion technology allows real-time vote changing;

False: Detroit contract worker saw vote fraud;

False: Dominion subsidiary's board chairman is on Joe Biden's transition team;

False: Dominion software was developed by Venezuelan engineers local to the late Hugo Chavez;

False: Dominion Voting Systems deleted 2.7 million Trump votes;

False: House Speaker Nancy Pelosi's husband is owner of Dominion;

False: Corrupted Dominion software was used in Michigan to steal 6,000 Trump votes.
This story was updated with new developments throughout the day, February 5, 2021.
2021-02-05T19:06:02Z

2021-02-05T19:06:02Z

Updates are added throughout the day February 5, 2021 as Lead Stories staff review the evidence Lindell's claims rest on.